Contract Operations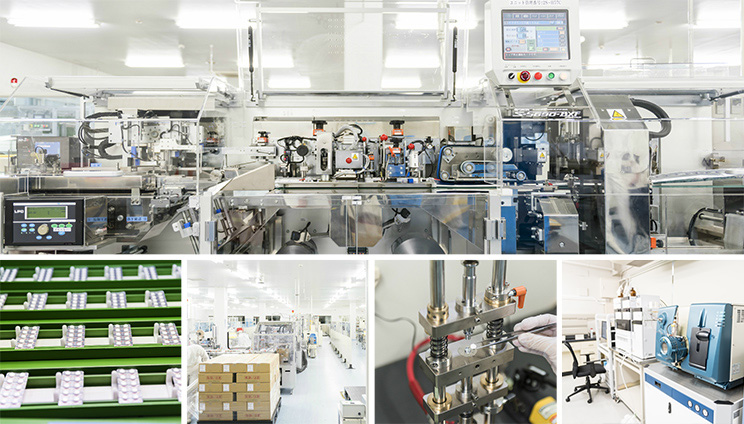 Kyoto Pharmaceutical Industries can undertake contract operations related to CMC (chemistry, manufacturing and control) such as development of formulation prescriptions, research on formulations, establishment of specification standards, development of test methods, etc. We can also be entrusted to manufacture prescription drugs with use of our state-of-the-art manufacturing facilities and highly advanced quality assurance system.
Kyoto Pharmaceutical Industries has been engaged in contract manufacturing of major domestic top-class drugs and given high evaluation and confidence.
Formulation Design
Kyoto Pharmaceutical Industries has promoted contract operations related to CMC (chemistry, manufacturing and control) such as formulation of solid preparations, development of analytical methods, manufacturing of investigational drugs, review of packaging specifications, stability tests for filing applications, etc. We have been positive in conducting proposal-oriented contract manufacturing in which we make proposals with respect to new formulations and new dosage forms as in the case of development of orally disintegrating tablets with due consideration to the patients' QOL improvement and life cycle management (LCM).
In addition, we have a system in place to conduct the solution-oriented contract manufacturing in response to the clients' request to improve formulations and analytical methods. For the developed formulations, we can be entrusted to undertake operations from the scale-up study to manufacturing in an integrated manner.
Contract Manufacturing
Kyoto Pharmaceutical Industries is conducting contract manufacturing of prescription drugs under the strict quality control system at our state-of-the-art manufacturing facilities which meet the latest GMP requirements.
Our manufacturing capacity for tablets, powder preparations, granular preparations and suppositories is over 4 billion pieces a year. Our plants are equipped with such facilities as explosion-proof equipment (granulation and coating processes) and low humidity (30%RH or lower) room environment (weighing, granulation and tableting processes) and a packaging line capable of double-sided aluminum PTP packaging. Thus we are capable of responding to the requests for contract manufacturing of special solid preparations.
We can also perform double-sided multi-color inkjet printing on tablets. Furthermore, we have facilities for small-scale manufacturing and can be entrusted to manufacture samples for prescriptions designing and improvement review and conduct study for scale- up from trial manufacturing to commercial manufacturing. We can also be entrusted to manufacture investigational drugs and conduct small-scale manufacturing.