Osadano Plant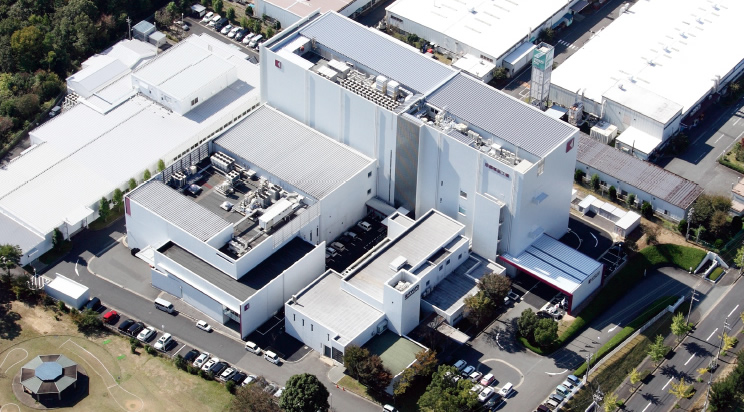 At Osadano Plant which is located in Fukuchiyama City, Kyoto Prefecture No.1 Formulation Facility was constructed in 1984 to manufacture suppositories. Then, No.2 Formulation Facility was constructed in 2004 to manufacture solid formulations. In 2010 No.3 Formulation Facility was constructed as an extension of No. 2 Formulation Plant to which it was connected. In 2011, an automated multi-level warehouse capable of storing 2,160 pallets was completed.
Osadano Plant is equipped with manufacturing facilities which are in compliance with the latest GMP standards with an annual manufacturing capacity of 4 billion tablets and 40 million suppositories.
Osadano Plant is also equipped with facilities capable of manufacturing special formulations to meet diverse needs, including explosion-proof granulation/coating equipment, low humidity formulation room environmet (30%RH or lower), packaging equipment capable of manufacturing double-sided aluminum packaging, etc.
Furthermore, it is possible to manufacture samples for prescriptions designing and improvement review and investigational drugs with use of our facilities for small-quantity manufacturing (approximately 30 kg scale).
Focus of Osadano Plant
Osadano Plant is our state-of-art formulation plant in compliance with PIC/S GMP and has the manufacturing capacity of four billion tablets in a year.
No.1 Formulation Facility
No.1 Formulation Facility is dedicated to suppositories which are manufactured in an integrated manufacturing line from dispersing, filling to packaging.
No.2 and No.3 Formulation Facilities
Solid dosage forms are manufactured in these facilities which are capable of manufacturing over 4 billion tablets in a year.
The logistics and manufacturing processes inside the facilities are controlled by the manufacturing information management system which enables stable supply of drugs of superior quality and cost performance.
The flow lines of man and material are distinctly segmented and zoning is clearly defined with tight control of differential pressure by the 24-hour ventilation to ensure consistency in maintenance of air cleanliness and prevention of contamination with foreign substance inside the facilities. The explosion-proof equipment, low humidity room environment (30%RH or lower) and the packaging line capable of double-sided aluminum PTP packaging enables manufacturing of special dosage forms.
Major Manufacturing Equipment (Solid Dosage Forms)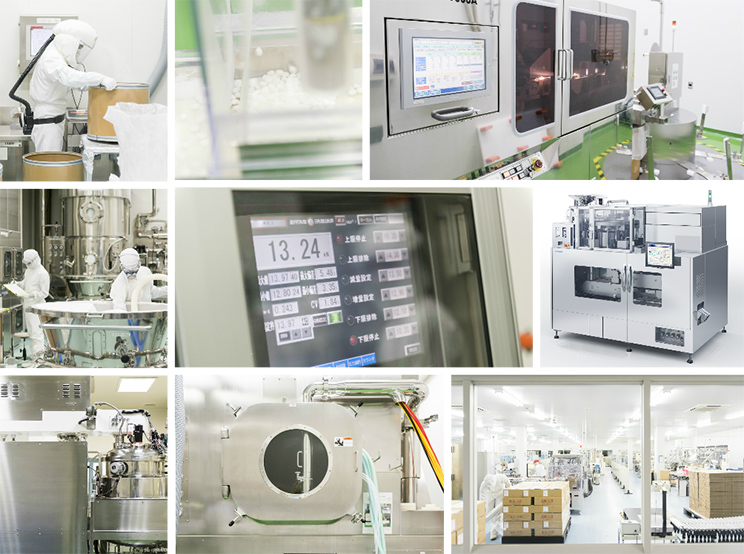 Our installations include the equipment for weighing, granulation, tableting, coating, inspection, printing, etc., to manufacture solid dosage forms, mainly tablets and granular dosage forms, the equipment for ink-jet printing which is capable of double-sided multi-color printing on tablets, eco-friendly high-speed PTP filling line capable of both-sided aluminum packaging and bottle packaging line which allows saving of energy, resources, etc.
Small-Scale Manufacturing Facilities
The facilities to manufacture a small quantity of 30kg scale are also installed for use for prescriptions designing, improvement review and the study on scale-up from trial manufacturing to commercial manufacturing. They can also be used for manufacturing investigational drugs.
Automated Warehouse

In 2011 an automated warehouse capable of storing 2,160 pallets was constructed. Combined with the existing warehouse, Osadano Plant now has the storage capacity of 2,640 pallets.
Built Environment Oriented Towards Energy Saving

Osadano Plant introduced solar power generation and energy-saving manufacturing facilities and received the evaluation rank of A under CASBEE (Comprehensive Assessment System for Built Environment Efficiency, comprehensive built environment assessment system in which care for the environment, care for the environment inside buildings, landscapes, etc., are subjected to assessment among others. Osadano Plant was the first plant to be certified the evaluation rank A in Kyoto Prefecture.