Research on formulations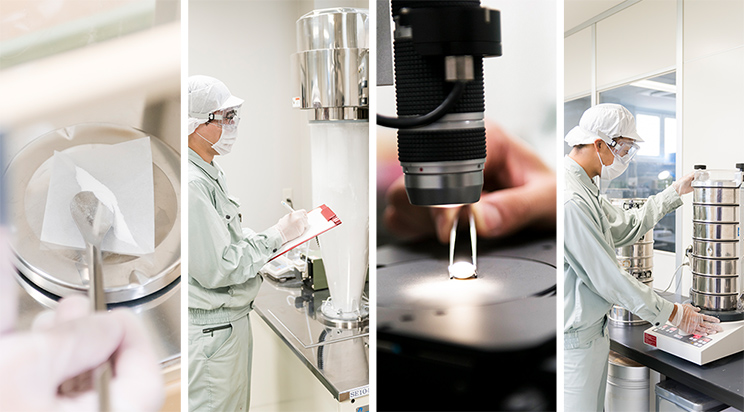 Research on formulations aimed to "achieve optimum dosage forms and superior dosage forms" for new and existing drug
The research on formulations is aimed to explore the optimum dosage forms to achieve efficient distribution of active ingredients in the body to maximize efficacy and minimize side effects.
The formulation technology is the core technology which affects success or failure of new drug development efforts and can be called a bridge of dream between drug discovery and clinical application.
Furthermore, we are engaged in the development of technology to improve patients' compliance by enhancement of efficacy and change of dosage forms or routes of administration of existing drugs to allow easier intake.
The research on formulations is based on theories, but empirical factors for solving problems through trial and error are also important. Therefore, the Formulation Research Laboratory and Analytical Laboratory are sharing information intimately and making integrated efforts to realize clinical applications.
So far, we have accomplished various achievements such as conversion of injectables to suppositories and oral agents based on our proprietary formulation technology and technology to create prodrugs by chemical modifications.
"Orally disintegrating tablets of Kyoto (ODK)" created by our representative formulation technology are already in commercial application. We are striving to develop other successor dosage forms.
Topics
Development of half-dosage forms and new DDS in addition to orally disintegrating tablets and small-size tablets
We are continually striving to develop new dosage forms such as orally disintegrating tablets, smaller-size tablets and half-dosage forms, etc., to allow easier intake of existing drugs to meet the needs of patients by utilizing our unique proprietary formulation technology. We are also focusing on the development of new routes of administration in the form of oral agents and suppositories in the place of injectables.